ROCK ISLAND ESCAPES WITH A VICTORY
October 27th - Davenport weighed in 10 pounds heavier per man but Rock Island was able to hold on to remain undefeated. Harry Coleman, Arthur Salzmann and Tommy Thompson were added to the roster to beef up the Independents for the contest. Davenport added several ex-high school stars to help strengthen its backfield.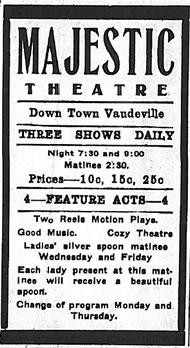 The Game – The game started at 3 O'clock. Davenport took the opening kick and immediately moved the ball into Rock Island territory. Herb Sies lined up for a place kick but the kick tailed a bit to the left and the referees ruled the kick no good. Both teams moved up and down the field but Davenport never seriously threatened to score again. Late in the game Rock Island took the ball from their own 35 yard line and marched down to the Davenport 3 yard line. On first and goal Art Salzmann was held to no gain. Again Salzmann smashed into the line only to meet fierce resistance. On third down MacManus kept the ball himself after a mixup in the backfield and almost took the ball over goal. On 4th and one yard to go, the Independents lined up to go for the win. Salzmann took the ball and once again he was stuffed at the line. Fortunately for Rock Island, before the play started the Davenport official blew the play dead, offsides Rock Island

.
After the 5 yard penalty it was 4th and 6. The Independents lined up with a balanced line. Right end Behnamann was called to shift over to the left side of the line. It appeared Rock Island was going to run to the left. MacManus took the snap, ran back and gave a pump fake to the left. Quickly he turned and fired to Swanson who was now eligible and had released off the line to the right. Swanson reached out and hauled in the pass for the game winning score. Roy Salzmann missed the goal kick. Rock Island held Davenport again and took possession and held it until the final whistle.
Important Davenport Stars – Herb Sies who played for St. Ambrose University was seen playing the game for Davenport at left half. Sies later went on to play for and coach the Rock Island Independents in 1923. Also playing in the game was a Waddy Kuehl who also starred in Davenport and played for St. Ambrose University as well. Kuehl played several years with the Rock Island Independents.
Source -Rock Island Argus October 28th, 1912 - Article Scan