November 3rd - "Manager Joseph Smith waived ticket collection of the ladies. The crowds at the games have been of the highest class and with support from the city police, Island city park is transformed into a family environment on Sunday afternoons. All ladies will be admitted for free."
Source -Rock Island Argus November 3rd, 1912
INDEPENDENTS SCORE 8 TOUCHDOWNS IN EASY WIN
The Game - Kickoff was at 3 O'clock.Kewanee took the opening kickoff. After failing to make a first down they punted to the Independents. Rock Island had several runs up the middle and quickly scored a touchdown on a run by Robb.
The game was never in doubt as Rock Island ran and threw the ball all over the field. The Independents were able to complete several passes on the day 2 of which went for touchdowns. Eight players scored touchdowns and Coleman was able to kick 4 extra points. Rock Island moved to 4-0 and will host the Moline West Ends next week.
Source -Rock Island Argus November 4th, 1912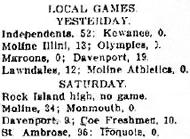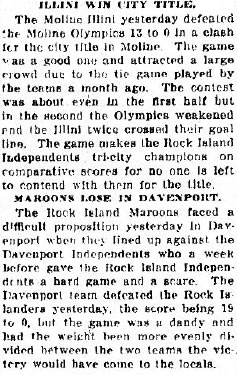 Rock Island Argus - November 4th, 1912 - Article Scan