Walter Flanigan
Walter Harrison Flanigan
Position:
Height: ' '' Weight:
Born: 5,17,1890 in Beardstown, IL, USA
College:
RII: 1912,1913,1914, 1915, 1916, 1917, 1918, 1919, 1920, 1921, 1922, 1923
Also Worked for Rock Island Police Department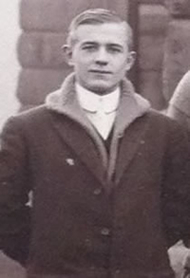 Walter Flanigan - Sub on 1912 Team.
Assistant Manager to Jack Roche in 1913 and 1914.Took over team manager position in 1915 and elevated the team from a small neighborhood team to a regional powerhouse. Flanigan attended the famous Hupmoblie showroom meetings that led to the formation of the NFL. Flanigan represented the Rock Island team and they were one of the charter members.
Profession: Flanigan was a desk sargent for the Rock Island police in 1917. The 1930 census shows that he was an Oil company executive. Flanigan later went on to become V.P. of the National Mortgage Company during the 40's and 50's (Tod Maher)