Notes from the family of "Nips" Murphy
He was born in Clinton, July 13, 1895, but on completion of his education he moved to Davenport and soon entered the workforce as an employee of the Standard Oil Co. He was also an internal revenue agent for the U. S. government for two years. He was married to Helen F. Schladitz September 7, 1920 in St. Anthony's Church, by the late Rt. Rev. Msgr. William ? Bulger.
STARRED ON GRIDIRON.
He was considered one of the greatest football players ever to compete in eastern Iowa in his Clinton high school days.
It was in 1913 and 1914 that 'Nips' Murphy a short, slight but extremely speedy quarterback, starred for Clinton high school football teams that scored victories over Davenport, Rock Island and other rivals. The team was coached by Coach Osborne and used the famed Osborne shift which broke Murphy and other backs loose for long runs. The year after his last championship team there Osborne went to Northwestern college, Naperville, Ill., as coach.
From Clinton, "Nips" Murphy went to Notre Dame University where he played on the freshman team. He left school of February 26, 1918 to enter the Army during World War I.
Serving with Co. L, 132 infantry, he was gassed during the Meuse-Argonne offensive. He received his discharge from the Army on Jan. 21st, 1919, and entered St. Louis University from which he graduated
three years later.
For several years he was a star with the Rock Island Independents football team, winning a number of
close games against the Davenport Athletic club and other foes with dropkicks.
He was the past commander of Davenport post No. 26, American Legion; a member of Loras council, Knights of Columbus, and does the Fourth Degree of that order; and a member of the Holy Name society of the Church of St. Paul the Apostle.
DEATH:
Death occurred at the home of a daughter, Mrs. Paul McManus, 3132 McKinley avenue, while he was visiting there. His own home was at 206 East Rushholme street, Davenport. Mr. Murphy suffered a heart attack in May and was convalescent for several months, but he resumed his duties in September and seemed to be an excellent health.
Surviving are his wife, Mrs. Helen F. Murphy; two daughters, Mrs. Margaret H. McManus, Davenport,
and Miss Marion E. Murphy, at home; one sister, Mrs. H. B. Kimball, Clinton and one grandson, Edward
J. McManus, Davenport. His parents, three brothers and one sister preceded him in death.
They had the following children:

30 F i. Margaret Murphy . Margaret married Paul Mc Manus .

31 F ii. Marian Murphy . Marian married Charles Van Camp .
Additional Information on the playing days of "Nips" Murphy
"Nips" Played Quarterback for Clinton High school and in 1914 he led Clinton High to the Iowa State Championship game. The game ended in a 13-13 tie and both teams were crowned Iowa State Champions. Duke Slater was also on the team and he went on to play for the Iowa Hawkeyes and the Rock Island Independents.
1916 - "Nips" came to Rock Island to try out for the team. He won the job and started the 2nd game at quarterback. Murphy was named team captain in the week leading up to the 3rd game of the season.
Nips introduced the Osborne Shift to the Independents. Nips and the new offense took the team from a Rock Island neighborhood team to a regionally recognized semi-pro team. They were able to play in an important game vs the Minneapolis Marines at the end of 1917. That game led to bigger things in 1919 and eventually an invite to the initial meeting of the NFL.
In his 2 years as a starter he threw for 4 touchdown passes, ran for 3 and caught 3 more.
In 1919 Nips played Summer baseball out west and then played several games for the Davenport Athletic Club.
Notes - Played for the Notre Dame freshman squad in 1915. (10/7/16)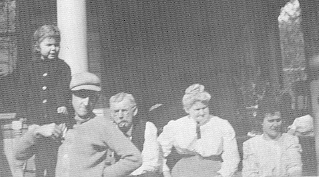 "Nips" on Far left holding Child -
1919 Article On "Nips" Murphy